Youth Ministry Summer Small Groups
Rising 10-12th grade girls - First meeting is May 22nd immediately following the Rise service. We are having brunch so please RSVP so our team of leaders can plan appropriately
Rising 8th and 9th grade girls
Rising 10-12th grade boys
Rising 8th-9th grade boys
Save the Date - More information coming soon
A Kids Lock-in allows kids and students to enjoy themselves more safely. They're a great way to get kids together, create community, build relationships, and have a lot of fun. They can dance, listen to music and stay up late talking and laughing all while learning and talking about Jesus.
There's something powerful about going with a small group of thoughtful people into the wilderness. It opens people's hearts and minds for deeper conversations and connections. It forces the group to work together to overcome obstacles. You immerse yourself in God's creation and can't help but be wow'ed by the awesome beauty you find there. Sign up today for the summer youth campout and give your youth something to look forward to before they begin a new school year.
2022 GRADUATES AND SCHOLARSHIPS
SCHOLARSHIP RECIPIENTS:
Dylan Avery Day
Sarah Grayson Edwards
Anna Estelle Higgs
La'Tecyia Johnson
Marisa Nicole Lewicki
Kasey Finley McCoury
Alfred Edison Morris III
Elizabeth Craig Parker
Thomas Nikolai Radford
Katelyn Nicole Starling


SCHOLARSHIP RENEWALS:
Anna Blair Daniels
Sydney Eure
Ann-Wallis Cox Mancuso
Erin Outlaw
Mason Starling
As young people begin to explore faith, we here at First UMC want to offer a path of support and encouragement, teaching and practicing faith, all leading to a personal decision to entrust their life to Jesus and begin to walk as his disciple day by day.

Confirmation has classically been a group process for youth 10-14 years of age. We are embracing a new path – fully individualized as a youth is ready and genuinely interested in exploring faith. Each youth will be paired with an adult mentor from our congregation who will meet regularly to listen and talk over questions of faith. Teaching sessions will be provided by the pastors both in print and by video. Activities of worship, service, and discipleship will be offered. Parent conversations will be integrated into the process.

This is a year-round opportunity. It begins and ends according to the youth's interest, participation, and decision. When they are ready, baptism (if needed) and profession of faith will be scheduled in a worship service.

Interested in knowing more so you can share with your son or daughter and gauge their interest? Contact, Pastor Powell or Pastor Sarah at church (252-726-7102).
Project MHC: June 5-9, 2022
Project MHC is a mission experience that is designed to be a mission trip experience without leaving our county. We will only be working a few short miles away from the church, but for many of our youth, they will be stepping into a world entirely different from their own. This is designed to be an opportunity for youth to grow in their faith while serving as the hands and feet of Jesus. Project MHC is designed to be an overnight experience so youth participating are required to spend the night and participate in all daytime activities.

Youth who have completed grades 5-11 (Rising 6th-12th graders)
*Former participants in 12th grade and up are welcome to apply as counselors!
Registration Fee - $350 (This cost goes to support the houses that we are working on by providing materials, tools, and more as well as providing for some meals and fun activities for the youth)
Mark your calendars and make plans for your Kids to experience VBS. Registration is now open! We welcome kids who are 3 years old AND fully potty trained! We cannot make exceptions and cannot accommodate kids who still need pull-ups. Please register your child according to the grade they have just completed. Rising 6th graders will function as junior leaders in younger classes. Youth (completed 6th grade and up) who want to serve as volunteers need to fill out the volunteer form.
SUNDAY NIGHTS
Youth and Kids programming is on Summer break as of May 1st. Join us in the Fall for Kickoff.
KIDS Sunday Evening Programming - Kids in K-5th grades will meet from 5-6pm for games, music or crafts, and bible stories.
YOUTH Sunday Evening Programming - Youth in 6th-12th grades will meet from 6-7pm. See the calendar for the schedule of events.
2021-22 school year Parental Consent form for kids and youth ministry (MUST COMPLETE EACH YEAR)
SUNDAY SCHOOL
KIDS 9:45AM - Join us in The Rise Service and be a part of the Children's Sermon before going to your Sunday school class. Journey through the Spark Story Bible learning all of the stories in the Bible and how they relate to our children and their families.


Trunks, treats, candy, costumes, games, balloons and Moses sharing God's word to "Just Stay Calm." Thank you FUMCMHC for a fabulous Trunk or Treat! It just makes us smile…God Loves You!
November 19-21 - MercyMe Concert and Busch Gardens Christmas Town. We will leave ASAP after school on Friday (will meet in the Walmart parking lot) and return by early afternoon on Sunday.

Friday Night: MercyMe Concert in Norfolk (Chartway Arena)
Saturday: Busch Gardens Christmas Town
Sunday: Travel home
Accommodations: Double Tree Inn Busch Gardens (rooms of 4 youth, 1 adult)
Ages: 6th-12th graders
Price: $200 (Note: This includes all meals, hotel room, and tickets to both events)
YOUTH SKI TRIP - CANCELLED
Wintergreen, VA
Hit the slopes with your FUMC friends! Join us for this mountain top experience. Lodging in rental houses. Two full days of skiing. Nightly devotions. Price includes all meals, lodging, gear, and ski lesson. $350 per youth (discounts available for families wishing to send multiple youth and scholarships are available. *Note: ALL BEGINNER SKIERS/SNOWBOARDERS MUST PARTICIPATE IN THE INCLUDED LESSON* Youth must have 9 church participation hours to attend. (Details can be found in the youth parent pack)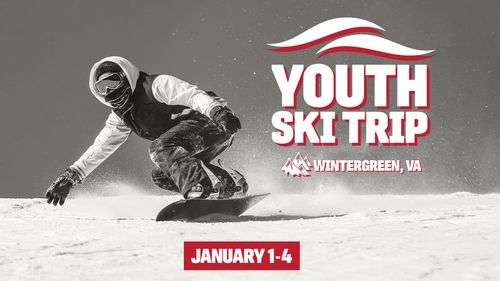 Be – We believe that every person is made in the image of God! All kids and youth are welcome here at First UMC! Please feel free to invite friends and neighbors! This is a place for your kids and youth to be.






Belong – Sometimes before we are ready to hear the gospel, we need to find a community and loves us and accepts us for who we are. Jesus met people where they were and spoke love into their lives before revealing who he truly was. This is a family! We eat as a family. We play as a family. We learn as a family. This is a place for your kids and youth to belong.
Believe – While we schedule many fun activities throughout the year, our main purpose is to help kids and youth grow in their faith. We want everyone who comes through our doors to hear about the love of Christ and the salvation he has to offer. Our main goal is to point toward the cross and guide kids and youth to accept Jesus as their savior and friend. This is where your kids and youth can learn what it means to believe.
Become – As United Methodist Christians, we believe that God continues to work in our lives after we accept the redeeming love of Jesus. We are continually becoming closer to Jesus as we seek to follow him. We offer mission opportunities for all ages, age appropriate Bible studies, and time for fellowship all as a way to help kids and youth walk down the path of discipleship, always becoming more Christ-like. This is a place your kids and youth can become disciples.